Kegiatan : Course online
Platform : Qwiklabs
Topik : Intro to ML Language Processing
Tautan : https://www.qwiklabs.com/quests/82
Harga : Gratis
Waktu : ~4 jam
Progres : 1/12 (target 12 dari total 22)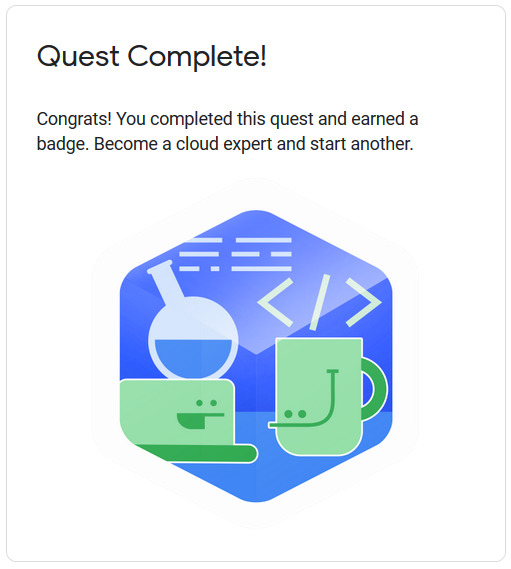 Machine Learning, kata yang sudah beberapa tahun jadi buzzword. Selalu menarik mempelajari tentang machine learning, bisa dari sisi tekonologinya, dari sisi keilmuannya, dan tentu saja dari sisi implementasinya. Course ini lebih membahas tentang implementasi langsung dari ML menggunakan API yang disediakan oleh Google.
Google Cloud Platform menyediakan banyak API untuk ML. Course ini mengenalkan kita pada beberapa API tersebut, langsung dengan praktik hands-on. Ada 5 hands-on lab di kursus ini:
AI Platform: Qwik Start
Google Cloud Speech API: Qwik Start
Cloud Natural Language API: Qwik Start
Entity and Sentimment Analysis with the Natural Language API
Speech to Text Transcription with the Cloud Speech API
Course ini mengenalkan cara melatih model TensorFlow, menggunakan API untuk speech to text, dan NLP API. Secara garis besar course ini tidak susah, tinggal mengikuti semua langkah-langkahnya dan pasti selesai. Total hanya ada 7 video di Youtube dengan total waktu ~20 menit. Memang waktu habis lebih banyak di hands-on.
Waktu yang diberikan untuk no 3, 4, dan 5 memang cukup banyak jadi pasti ada sisa waktu. Kalau mau coba-coba bisa misal ganti kalimat, input audio, dll. Masih kelas pengantar, jadi tidak terlalu sulit.
Selamat belajar!