Kegiatan : Audiobook
Platform : Audible
Topik : Buku anak-anak
Tautan : https://stories.audible.com/pdp/B002V1BPOQ?ref=adbl_ent_anon_ds_pdp_pc_cntr-1-0
Harga : Gratis
Waktu : 2 jam 46 menit
Rating : 5/5
Aku suka membaca buku, terutama buku anak-anak. Sudah cukup lama aku ingin berlangganan Audible, namun harga buku yang cukup mahal membuatku mengurungkan niat. Beberapa waktu yang lalu aku mendapatkan informasi bahwa ada beberapa audiobook gratis yang bisa didengarkan di Audible. Link ada di sini.
Winnie-the-Pooh merupakan karakter beruang yang diciptakan A.A. Milne. Winnie-the-Pooh atau Winnie the Pooh adalah salah satu karakter paling terkenal dan merupakan franchise dengan nilai pendapatan ketiga tertinggi, hanya di belakang Pokemon dan Hello Kitty.
Audiobook ini merupakan bacaan dari buku pertama Winnie the Pooh. Karakter di buku ini ada Christopher Robin, Winnie the Pooh, Piglet, Rabbit, Owl, Eeyore, Kanga, dan Roo. Aku cukup terkejut ketika ternyata Tiger itu warga pindahan ke Hundred Acre Wood.
Audiobook yang dibacakan oleh Peter Dennis ini sangat luar biasa. Dari suara-suara karakter yang berbeda-beda dan intonasi suara yang pas, membuat kenikmatan mendengarkan audibook ini menjadi sempurna.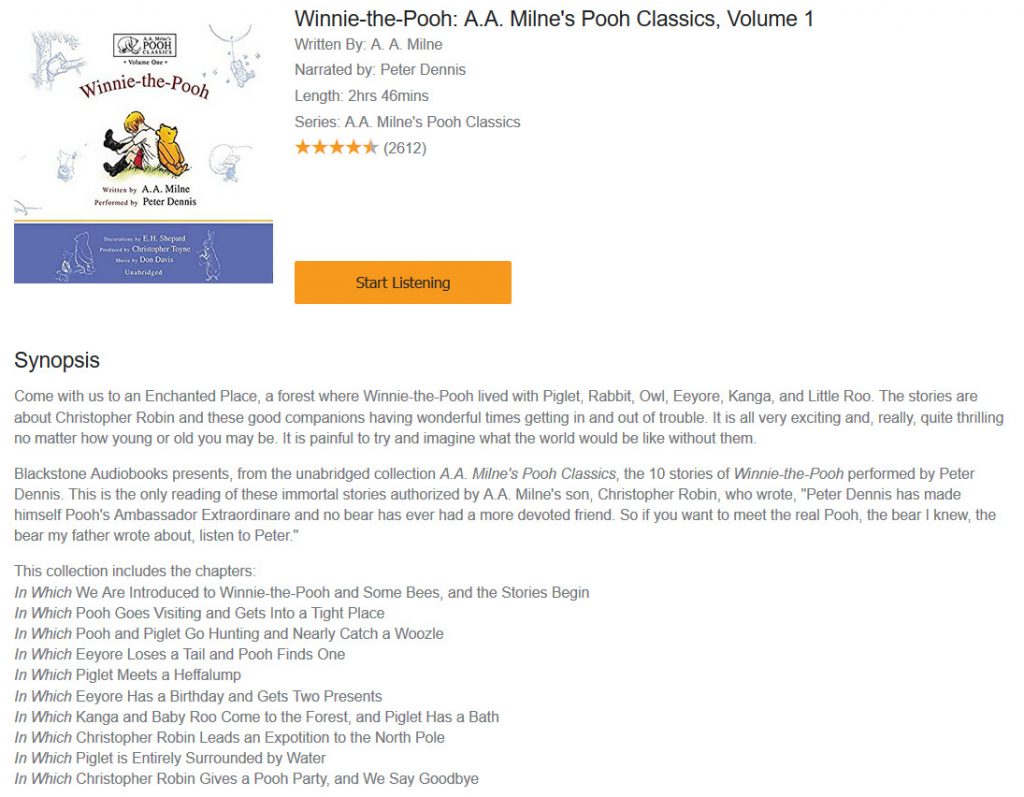 Aku sudah menggemari Winnie the Pooh sejak SD. Aku punya VCD yang sering aku putar berkali-kali. Bahkan sepertinya VCD Winnie the Pooh lebih sering kuputar dibandingkan Shrek (yang pertama) ataupun Petualangan Sherina. Salah satu quote yang masih kuingat dari film itu ada beberapa.
Mendengarkan Winnie the Pooh ini merupakan hal yang cukup menyenangkan. Logika Pooh yang tidak biasa, masuk akal tapi gak masuk akal, cocok dengan pola pikir anak-anak. Aku merasa kembali ke jaman anak-anak. Konyol, sederhana, dan lucu.
Aku sangat menyarankan orang lain untuk meluangkan 10 menit untuk mencoba mendengarkan 1 chapter dari audiobook ini. Selamat mendengarkan.